Posted by
Rose
on Apr 14th, 2008 in
Digital Art
|
0 comments
I was feeling a little under the weather today, so I didn't get much done in the studio. I'm sure tomorrow will be a much better day.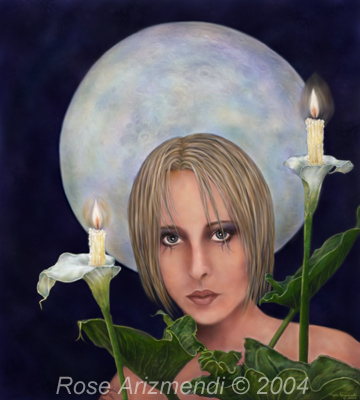 Moon Child – 9 X 10 – Combined Mixed Media
"There are nights when the wolves are silent and only the moon howls." – George Carlin
"The moon, like a flower in heaven's bower, with silent delight sits and smiles on the night." – William Blake
Spent most of the afternoon working on the painting below, using a texture stamp I made on the background and the face.
I found this process adds interesting detail to the overall look of the painting. Hopefully, I can find some time to work on it over the weekend.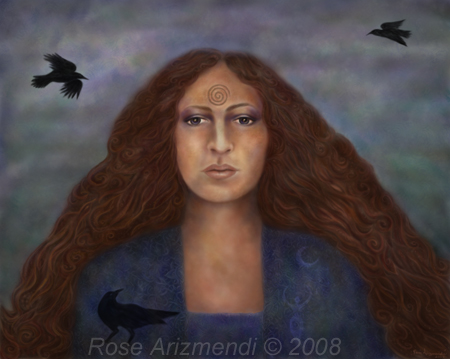 The Morrigan – Combined Mixed Media 11X 14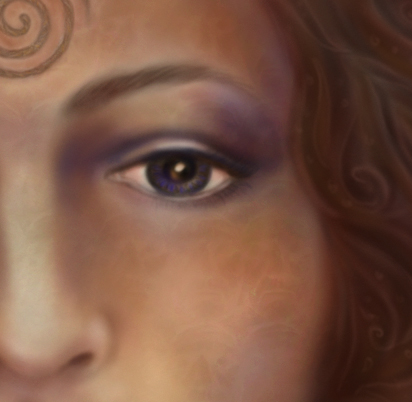 Close up of the face
I love photographing trees and I have a fondness for tree knot holes, especially those which have interesting shapes and textures.
As a child I would imagine all sorts of magical beings living in these holes, and would place little treasures inside as gifts.
Now that I am older, I have discovered there are subtle images and shapes lurking in the places between light and shadow within these knot holes. Below is a sketch of a knot hole near our home.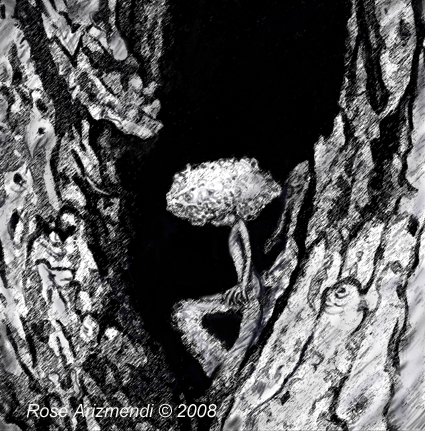 Tree Spirit – Digital Combined Mixed Media
In towering splendor once I stood
A regal monarch of the wood,
My branches once reached to the sky
See me now but do not cry.
The Creator's work has yet to cease
I've become a shelter for bird and beast,
And when at last I fall to the Earth
The life I leave will inspire new birth;
A seedling springs forth from the ground
Nature's cycle goes round and round.
– S. Edward Palmer, Spirit Tree
As mentioned in prior posts, I have been organizing, clearing out and making backup copies of my files. Yesterday, I found all kinds of painting files in folders I had managed to hide from myself.
Paintings, sketches, photographs, and collages I found lacking in some way or another, yet after a couple of years have passed, I find myself looking at them with fresh eyes.
They were lost and now found, below are a couple in various stages of development.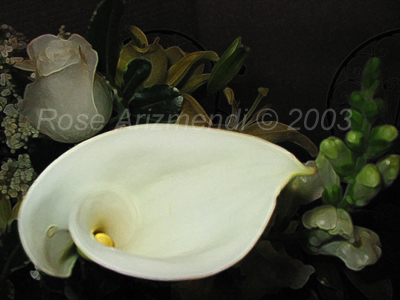 Calla Lily With A Rose (C) 2003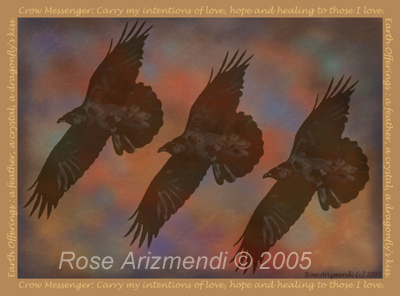 Crow Messenger (C) 2005
Digital Collage
We had a beautiful sunshine filled day and I took advantage of the great weather by going for a walk.
Our dog Rupert really enjoyed himself as he sniffed every plant on the block, and I noticed everyone we encountered on our walk seemed to have a little spring in their step, including us.
I spent most of the afternoon working on the painting below, and wanted to share it with you. It's almost ready to be posted on the gallery site, I just need to tweak it a little more .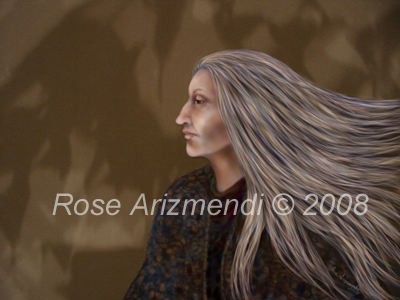 Reflection (C) 2008 – Digital Painting


"Women need real moments of solitude and self-reflection to balance out how much of ourselves we give away". – Barbara De Angelis


While going through some of my old digital painting files this morning, I came across this angel painting I made for a slate sign that hangs by our garden gate.
It was one of those creative moments where I did a quick draft, printed and glued it to the sign, thinking I would someday go back and finish this painting, of course I moved on and forgot about it.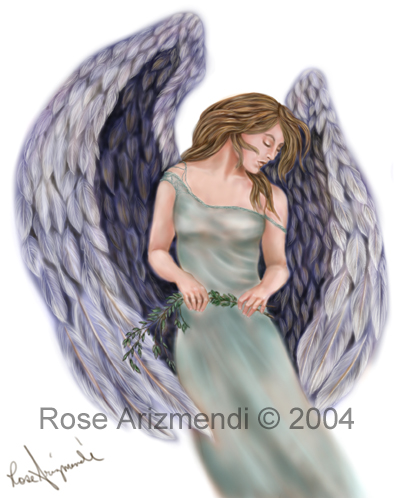 Angel In The Garden Rose Arizmendi 2004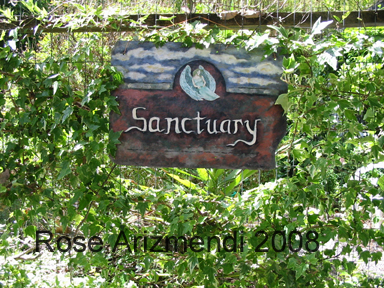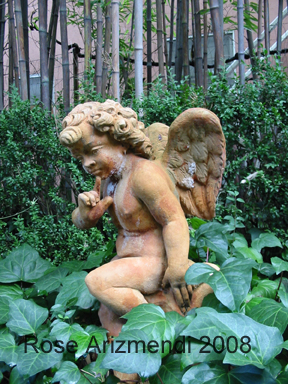 Our Garden Angel
Creating paintings of masks has been a life long passion for me. I also like making masks out of paper mache, plaster, ceramics, etc…
I have a series of mask paintings I have been working on for several months. Below is one that is almost finished.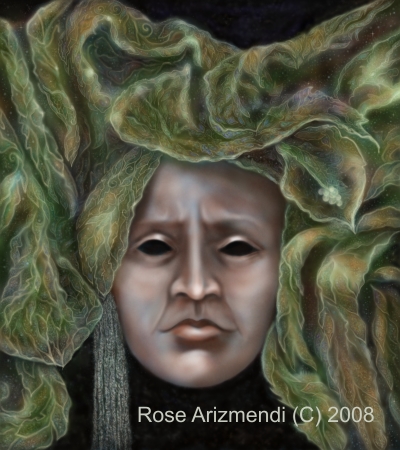 The Mask Of Gaia (C) 2008
"The hypothesis of Gaia is the idea that we may have discovered a living being bigger, more ancient, and more complex than anything from our wildest dreams. That being, called Gaia, is the earth." James Lovelock
Worked several hours on the Shaylee painting today. It takes me anywhere from a couple of weeks to several months to finish a painting, depending on the size, detail involved, and time available.
The size of this painting is 11 x 14″. You are viewing only the head and shoulders portion of the painting.

Shaylee (C) 2008
"Happiness… it lies in the joy of achievement, in the thrill of creative effort".
Vincent Van Gogh

I use Corel Painter 7 and IX.5 along with a Wacom pressure sensitive tablet when creating my digital paintings. My first Metacreations Painter 6.0 was a Christmas gift from my husband.
He handed me a pretty packaged paint bucket and said Merry Christmas! When I learned it was a digital painting program, I was skeptical that I would actually use it.
I have been hooked ever since. I love it! I can paint to my hearts content, no mess, no cleanup, and no chemicals. Best of all, I have an endless supply of canvases.
The only drawback is a steep learning curve, I finally had to take some classes to be able to really work with it. Other than that it's been a great journey.
Below is a digital work in progress. First I made a sketch, then scanned it and moved it into Painter. I began developing the fairy woman's face, hair and the background.
This is a rough first draft of the painting, and I decided to call it Shaylee. A Celtic/Gaelic word meaning fairy princess of the field.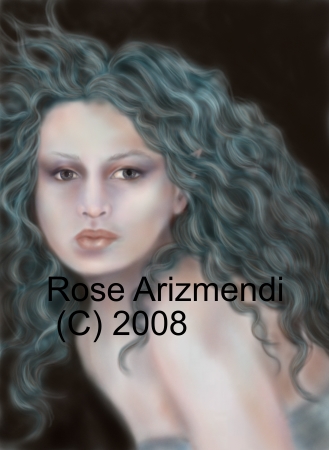 Shaylee (c) 2008
"Gay are the hills with song: earth's faery children leave,
More dim abodes to roam the primrose – hearted eve.
A. E.
Today has been cold and dreary , but I did manage to work on some of my paintings. When the weather is like this I just want to crawl under a nice warm blanket with a good book.
When I stepped out earlier for some fresh air there was a light drizzle, and I noticed our calla lilies were looking kind of sad. They are usually blooming by now.
Well it's time to get back to work. A nice cup of chai tea should lift my spirits.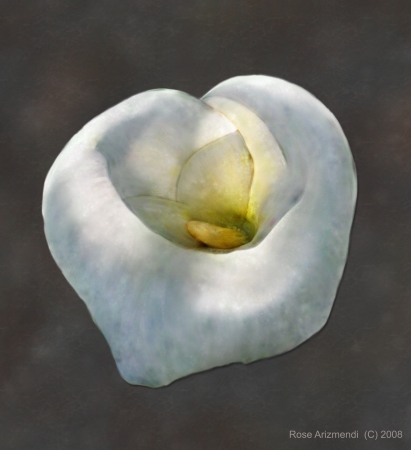 Calla Lily " The muse of artists for centuries"

"Earth laughs in flowers" Ralph Waldo Emerson