Posted by
Rose
on Oct 13th, 2008 in
Work in Progress
|
0 comments
Today I added the finishing touches to the second I Ching piece I have been working on. I reworked some areas and added beach glass to the hair. I also added an old Chinese coin and finished off with a flower shaped abalone shell.
I found the abalone shell flower at the Gem Show. It was the only one which had a butterfly shape in the center and I thought it would be perfect for the hair. There's not much left to do … but  varnish the canvas. Yea!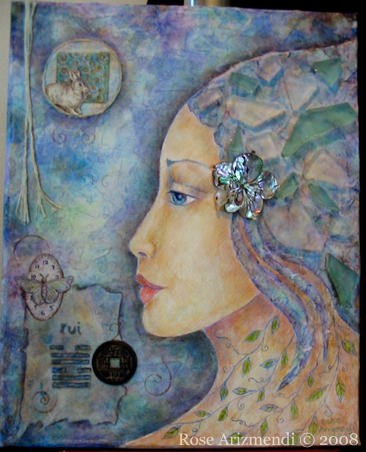 I Ching - Tui - watercolor mixed Media and collage – 8 X 10 inches on wrapped canvas
The I Ching collage is finished. I had fun experimenting with attaching watercolor paper to the canvas and finally figured out that hard molding paste was the best choice for me.
I painted the Kuan Yin portrait and the sun on Fabriano  Watercolor paper. The I Ching hexagram Tai was created on rice paper. For more info see post on September 3rd.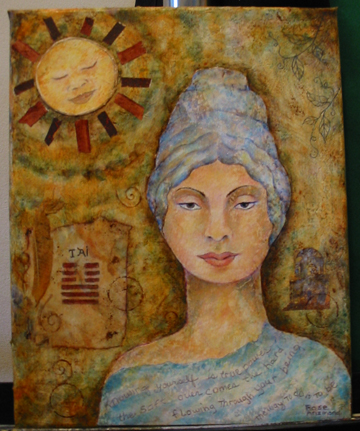 I Ching – Collage/Mixed Media – 8 X 10 inches on canvas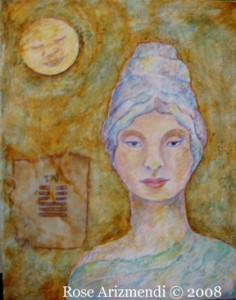 I Ching – Before
Today I was able to work some more on the Tui collage/Mixed Media piece. I added some more collage components and painted in some leaves along her neck area.
Hopefully tomorrow I will have some extra time to work on it.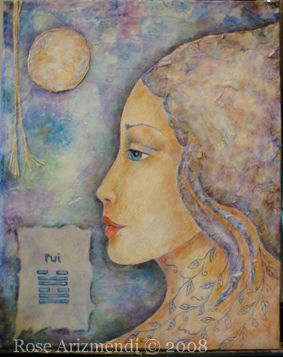 Tui - Mixed Media – 8 X 10 inches on canvas
"Creativity comes from awakening and directing men's higher natures, which originate in the primal depths of the uni- verse and are appointed by Heaven." - I Ching quote
"He who possesses the source of enthusiasm will achieve great things. Doubt not. You will gather friends around you as a hair clasp gathers the hair." I Ching quote

It's another day in the studio and I am working on a new collage/painting. For the theme of this painting I chose the I Ching hexagram Tui which represents happiness, joy, success, and good fortune.
The trigram Tui also denotes the youngest daughter and is symbolized by the smiling lake which is associated with freshwater in low areas: rivers, lakes, and marshes.
I began by prepping the canvas and then sketched the face below to represent the young daughter then glued the face, Tui symbol and the moon to the canvas.
I decided on a palette of cobalt blue, turquoise, primary cyan, and burnt umber, mostly trying to stay with yin colors which are said to bring about healing and relaxation.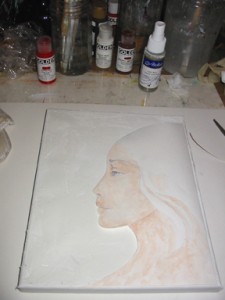 Tui #1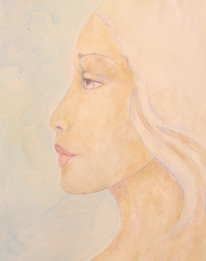 Tui #2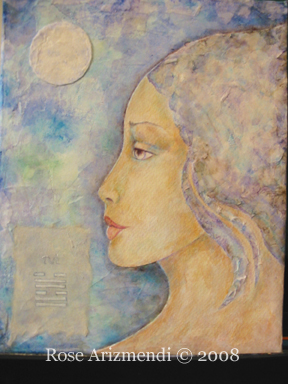 Tui # 3
Whew! This is what I have done so far. Tomorrow I will take a fresh look at what I've done so far and begin fine tuning it.
What a beautiful morning! The sun is out … the air is crisp, and from my studio window I watch people hurrying along the sidewalk,  listening to the sound of  fallen leaves crunching beneath their feet.
With coffee cup in hand I begin prepping canvases by laying down a coat of gesso.
While the canvases dry I make some preliminary sketches then choose the ones I want to use and transfer these to watercolor paper. I cut out the selected images and apply a light coat of gesso to the back of the watercolor paper and leave it to dry.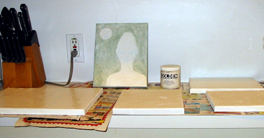 When the canvases have dried completely I apply either Golden ( soft or hard) molding paste with a large painting knife and put these aside to dry. This gives the canvas the look of aged plaster.
At this stage I may choose to apply the individual watercolor collage components using the molding paste or wait and use gel medium to glue them down after the molding paste has dried. The above picture shows the images applied with molding paste.
Now I am ready to apply acrylic paint to the background. First I lay in a light wash of color and let it dry before I begin adding additional layers of color, making sure  not to completely cover the first layer because I want each layer to show through.
While each background layer is drying I usually begin painting the collage elements using watercolor, acrylic, and inks.
Below is a photo of the under painting and it is at this point I can make any necessary adjustments to Kuan Yin's face and begin adding stamping, text and more collage elements. In this painting/collage I have added the I Ching hexagram Tai which means harmony, great powers, and the flow of good things.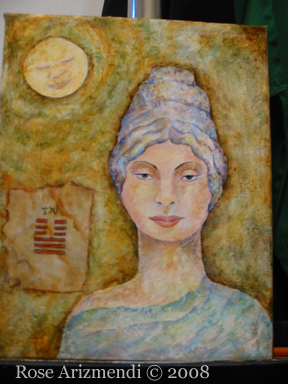 I Ching – Collage/Mixed Media – 8 X 10 inches on canvas